A space saving playset can help us parents who are desperately trying to cram our backyards with fun things for the kids to do but don't have a lot of space! Does King Swings offer any small footprint playgrounds for backyards? Can we help you design your own play set to fit your unique space?
King Swings offers several space saving playsets, and if those are not exactly right, you can design your own playset!
One of the beautiful things about being able to design your own playset is that you can pick and choose what pieces you really want and leave out the ones you just don't have space for, making it just right for your family!
Below are some of my top tips for designing small footprint playsets.
Use Super Spiral Slides: Super spiral slides stick out only 5' from the tower, while other slides start at 8' and go up from there.
Fewer Swing Positions: The swing beam can eat up your yard quickly. To design your own playset that fits into your yard, try using a two-position swing beam or a two-position cross beam.
Know When to Cheat: Safety buffers are important for safe play, but some are far less important than others, especially when designing a space saving playset. These tips are for residential only. Here are some places you can cheat for a small footprint playset design:
At the end of the A-frame: You can tuck that end right up against the fence. Although you will not be able to run around that side of the swing beam, it is not a safety concern.
An Empty Side: If you have all the slides and access points coming out the front or back of the swing set tower or playhouse, you can scoot the empty side close up against the fence or shrubbery.
Use Combo Climbers: Having the rock wall and ladder together saves space!
Utilize the Bottom Area of the Tower: Space saving play sets can be just as fun as big sets if you put a lot of fun items, such as a ball pit or coffee bar, under the swing set tower. This doubles the fun zones!
Stand-Alone Swing Beams: Some backyards have multiple small pockets of space. You could do a tower or playhouse with climbers and slides in one area and a stand-alone swing beam in another.
Know your Limits: It is better to have a swing set that fits safely than compromise it to fit in just one more thing.
Our swing set design teams can help you design your space saving playset either from scratch or from an idea you had. When we create a space saving play set, we like to have a picture of the area it is going into so we can visualize it. This can help us maximize your fun without compromising safety.
To help you get started, check out the Care-Bear Castle and the Lodge. Both are small footprint play sets and utilize the two-position cross beam. 
Below are some custom playsets that Moms and Dads have come up with to fit in their small backyards. You can also check out our Instagram for lots of examples of custom sets!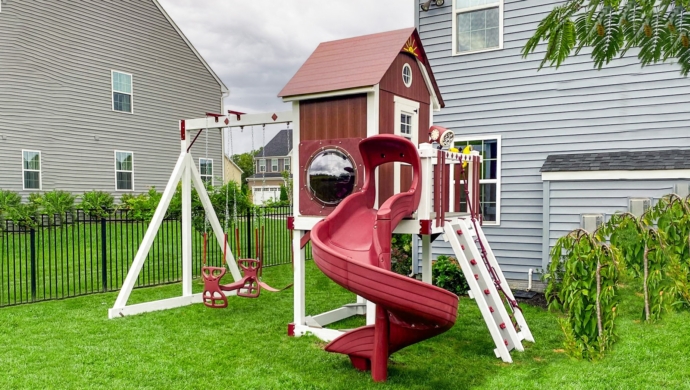 This custom playhouse has a two-position standard beam, a 4'x6′ playhouse on a 6'x6′ tower, a 5′ super spiral slide, and a rock wall/ladder combo! It is 18′ left to right but only 11′ front to back though you do have to take into account the swings.
This is a customized Cubby's Fort. Using a two-position standard beam and moving the rock wall to the back, the set is now 13′ left to right and 15′ front to back.
This playhouse is big, yes, but it still packs a lot of fun into a smaller-than-expected space. Left to right, it is about 14′. Front to back, it is 24′. To shrink that down considerably, you could change the giant green slide to a super spiral slide. That would take that 24′ down to 16′.
Space saving playsets can be a bit tricky to design as you may not know how far all the parts extend from the tower. That is where our swing set design team comes in. Reach out to us, and we can bring a really fun but really small playground home!